Exhibitor/Sponsor: New York Solar Summit 2016
Exhibitor | Sponsor | All Training & Events ~ Jun 20 2016
to
---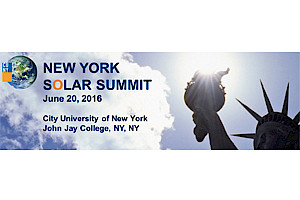 City University of New York, John Jay College, NY, NY
524 W 59th St, New York, NY 10019
---
Jun 20 2016
to
Tabletop
events.r20.constantcontact.com
www.cuny.edu
---
Yaskawa - Solectria Solar is a Kilowatt Sponsor of the 2016 NY Solar Summit!
THE 10TH ANNUAL NY SOLAR SUMMIT
Sustainable CUNY's 10th annual NY Solar Summit will highlight the importance of resiliency and explore how the NYS Public Service Commission's 'Reforming the Energy Vision' will transform utility companies. In addition, the Summit will feature the NYC Solar Partnership and the largest mayoral commitment to solar in the United States as well as the Governor's NY-Sun programs that include solar opportunities for all New Yorkers. The Summit will detail the tools that help give all New Yorkers a pathway to solar including the CUNY built NY Solar Map and Portal and its comprehensive NYSolar Smart program; the DG Hub- Resilient Solar Project, and tNYC Grid Ready in partnership with Con Edison. New York's renewable energy revolution is ramping up to become a bigger part of the energy equation, bringing stability, security and strength through diversity and local supply, and a significant number of good paying energy jobs to the Empire State.
THE AGE OF SOLAR
FULFILLING THE VISION
Over a century ago, visionaries built the infrastructure that helped realize Thomas Edison's innovations and Americans became accustomed to accessing electric power at the flick of a switch. However, after decades of crippling storms, fossil fuel instabilities, grid vulnerabilities and political and economic turmoil around the globe,  our populace agrees that a 21st Century infrastructure must include renewable energy. The bulk of today's' energy buyers have experienced multiple outages and are aware of the many economic, environmental and political costs of their power sources. Moreover, the generations that are now the decision makers have grown up with the premise of solar and have noticed, like other technologies, it's evolution. Mainstream is ready for Solar.