2015 Top 100 Women-Led Businesses in Massachusetts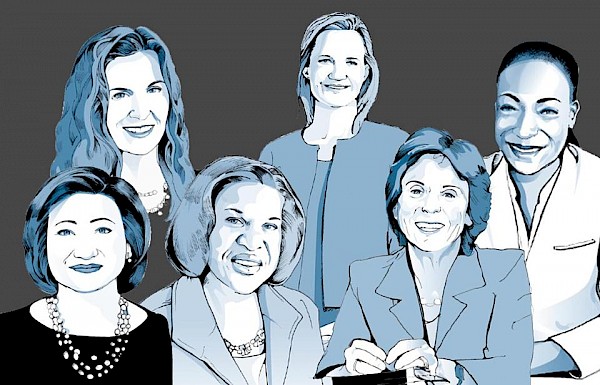 Image Credit: Boston Globe - Illustrations by Tonia Cowan/Globe Staff
The Globe Magazine and The Commonwealth Institute partnered to honor those organizations with the most impressive records of innovation and workplace diversity, as well as revenue and employee numbers.
HOW WE CREATED THIS LIST
We looked at revenue or operating budget and other variables, including number of full-time employees in the state, workplace and management diversity, and innovative projects. We then ranked organizations according to our own formula. We considered both for-profit and nonprofit organizations. This is the 14th year that the Commonwealth Institute — a local nonprofit that supports female business leaders — has created the list, and the third year that the Globe Magazinehas partnered with the group.
Note: Leaders in this list were in place at the end of 2014 (the year for which we examined revenue and other data) and a few are no longer at the businesses.
In addition to the list, read interviews with seven of the business leaders, plus sizing up a few of the organizations.
| Ranking | Company | Leader | Location | Business Type |
| --- | --- | --- | --- | --- |
| 1 | Weber Shandwick | Micho F. Spring, chair, Global Corporate Practice, and president, New England | Boston | Public relations |
| 2 | Atlas Travel & Technology Group | Elaine Osgood, president and CEO | Milford | Travel services |
| 3 | Brigham and Women's Health Care | Elizabeth G. Nabel, president | Boston | Health care |
| 4 | Boston Children's Hospital | Sandra L. Fenwick, president and CEO | Boston | Health care |
| 5 | Bright Horizons Family Solutions | Mary Ann Tocio, president and COO | Watertown | Human services |
| 6 | Norwell Visiting Nurse Association | Meg Doherty, CEO | Norwell | Health care |
| 7 | New England Baptist Hospital | Trish Hannon, president and CEO | Boston | Health care |
| 8 | The TJX Cos. | Carol Meyrowitz, CEO | Framingham | Retail or wholesale |
| 9 | Boston Medical Center HealthNet Plan | Susan Coakley, president | Boston | Health care |
| 10 | The Greater Boston Food Bank | Catherine D'Amato, president and CEO | Boston | Human services |
| 11 | Beth Israel Deaconess Care Organization | Christina Severin, president and CEO | Westwood | Health care |
| 12 | The Dimock Center | Myechia Minter-Jordan, president and CEO | Roxbury | Health care |
| 13 | Candlewick Press | Karen Lotz, president and publisher | Somerville | Publishing |
| 14 | Isabella Stewart Gardner Museum | Anne Hawley, Norma Jean Calderwood director | Boston | Museum |
| 15 | Copyright Clearance Center | Tracey Armstrong, president and CEO | Danvers | Copyright licensing |
| 16 | Cardinal Cushing Centers | Jo Ann Simons, president and CEO | Hanover | Human services |
| 17 | United Personnel Services | Patricia Canavan, president | Springfield | Staffing |
| 18 | Catholic Charities, Archdiocese of Boston | Deborah Kincade Rambo, president | Boston | Human services |
| 19 | Travel Leaders/Happy Holidays Travel | Diane B. Mullahy, president | Framingham | Travel services |
| 20 | Magellan Diagnostics | Amy Winslow, president | North Billerica | Health Care |
| 21 | Cambridge BioMarketing | Maureen Franco, CEO | Cambridge | Advertising |
| 22 | Boston Medical Center | Kathleen E. Walsh, president and CEO | Boston | Health care |
| 23 | PGR Media | Jane Deery, CEO | Boston | Advertising |
| 24 | Jewish Family & Children's Service | Rimma Zelfand, CEO | Waltham | Human services |
| 25 | Bay Path University | Carol A. Leary, president | Longmeadow | Education |
| 26 | Partners Community Physicians Organization | Lynn Malloy Stofer, president | Needham | Health care |
| 27 | Toward Independent Living and Learning | Dafna Krouk-Gordon, founder and president | Dedham | Human services |
| 28 | Lancaster Packaging | Marianne Lancaster, president | Hudson | Purchasing services and wholesale distribution |
| 29 | KNF&T Staffing Resources | Elizabeth A. Tucker, CEO and president | Boston | Staffing |
| 30 | The Children's Trust | Suzin Bartley, executive director | Boston | Human services |
| 31 | Whittier Street Health Center | Frederica M. Williams, president and CEO | Boston | Health care |
| 32 | BJ's Wholesale Club | Laura J. Sen, president and CEO | Westborough | Retail or wholesale |
| 33 | D'Youville Life & Wellness Community | Naomi Prendergast, president and CEO | Lowell | Health care |
| 34 | Care.com | Sheila Lirio Marcelo, founder, chairwoman, and CEO | Waltham | Consumer Internet |
| 35 | Carleton-Willard Village | Barbara A. Doyle, president and CEO | Bedford | Health care |
| 36 | Pinck & Co. | Jennifer B. Pinck, president | Boston | Owner's project management |
| 37 | Codman Square Health Center | Sandra Cotterell, CEO | Dorcester | Health care |
| 38 | Mount Auburn Hospital | Jeanette G. Clough, president and CEO | Cambridge | Health care |
| 39 | Gradient | Teresa S. Bowers, president | Cambridge | Consulting |
| 40 | Zipcar | Kaye Ceille, president | Boston | Travel services |
| 41 | Vecna | Deborah Theobald, CEO | Cambridge | Health care |
| 42 | Learning Express | Sharon DiMinico, founder and CEO | Groton | Retail or wholesale |
| 43 | KHJ Brand Activation | Judy Habib, president and CEO | Boston | Brand activation |
| 44 | Sensata Technologies | Martha Sullivan, president and CEO | Attleboro | High-tech manufacturing |
| 45 | The Cambridge Institute of International Education | Christine Lin, cofounder and president | Waltham | Education |
| 46 | Boston Heart Diagnostics | Susan Hertzberg, president and CEO | Framingham | Health care |
| 47 | Abt Associates | Kathleen L. Flanagan, president and CEO | Cambridge | Research and consulting |
| 48 | YouthBuild USA | Dorothy Stoneman, founder and CEO | Somerville | Nonprofit, national intermediary |
| 49 | MassDevelopment | Marty Jones, president and CEO | Boston | Finance and development |
| 50 | Motion Recruitment Partners | Beth Gilfeather, CEO | Boston | Recruitment solutions / talent acquisition |
| 51 | Vistaprint | Trynka Shineman, president | Lexington | E-commerce |
| 52 | Reading Co-operative Bank | Julieann M. Thurlow, president and CEO | Reading | Financial services |
| 53 | Eastern Insurance Group | Hope A. Aldrich, president and CEO | Natick | Insurance |
| 54 | Audley Travel | Jacqueline Lewis, president and managing director, North America | Boston | Tour operator |
| 55 | Anaqua | Priya Iyer, chairman and CEO | Boston | IT services or technology |
| 56 | Boston Community Capital | Elyse Cherry, CEO and president | Boston | Community development finance |
| 57 | Analysis Group | Martha S. Samuelson, president and CEO | Boston | Consulting |
| 58 | Salem State University | Patricia Maguire Meservey, president | Salem | Education |
| 59 | Data Intensity | Kirk Arnold, CEO | Bedford | IT services or technology |
| 60 | inStream | Ann Raider, president and CEO | Wellesley | Marketing/technology |
| 61 | Au Bon Pain | Sue Morelli, president and CEO | Boston | Food and hospitality |
| 62 | The Training Associates | Maria Melfa, president and CEO | Westborough | Provider of training talent and solutions |
| 63 | Princess House | Connie Tang, president and CEO | Taunton | Direct selling |
| 64 | Massachusetts Technology Collaborative | Pamela Goldberg, CEO | Boston | Government/ technology innovation |
| 65 | Massachusetts Medical Society | Corinne Broderick, executive vice president | Waltham | Nonprofit organization |
| 66 | The Grommet | Jules Pieri and Joanne Domeniconi, CEO and chief discovery officer | Somerville | Media |
| 67 | TradeStone Software | Susan Welch, founder and CEO | Gloucester | Software |
| 68 | Constant Contact | Gail Goodman, chairman, president, and CEO | Waltham | IT services or technology |
| 69 | Atlantic Charter Insurance Co. | Linda Sallop, president and CEO | Boston | Insurance |
| 70 | Infinity Pharmaceuticals | Adelene Q. Perkins, chair, president, and CEO | Cambridge | Biotechnology |
| 71 | Harvest Power | Kathleen Ligocki, CEO | Waltham | Organic management/renewable energy |
| 72 | E.T.& L. Corp. | Jennie Lee Colosi, president and owner | Stow | Construction |
| 73 | Boston Common Asset Management | Geeta Aiyer, president and founder | Boston | Financial services |
| 74 | P3I | Janice P. Guy, president, CEO, owner | Hopkinton | Engineering |
| 75 | Morgan Memorial Goodwill Industries | Joanne K. Hilferty, president and CEO | Boston | Human services |
| 76 | Hollister Staffing | Kip Hollister, founder and CEO | Boston | Staffing |
| 77 | Finagle a Bagel | Laura B. Trust, owner and president | Newton | Retail or wholesale |
| 78 | Chadwick Martin Bailey | Anne Bailey Berman, president and CEO | Boston | Market research and consulting |
| 79 | PeopleSERVE | Linda Moraski, president and CEO | Chestnut Hill | IT services or technology |
| 80 | WilmerHale | Susan Murley, co-managing partner | Boston | Law |
| 81 | The Trustees of Reservations | Barbara Erickson, president and CEO | Boston | Nonprofit |
| 82 | Newburyport Five Cents Savings Bank | Janice C. Morse, president and CEO | Newburyport | Financial services |
| 83 | Massachusetts Clean Energy Center | Alicia Barton, CEO and executive director | Boston | Government |
| 84 | Wineland-Thomson Adventures | Judi Wineland, president and co-owner | Watertown | Travel services |
| 85 | Shepley Bulfinch | Carole Wedge, president | Boston | Architecture |
| 86 | Axcelis Technologies | Mary G. Puma, CEO | Boxford | IT services or technology |
| 87 | Solectria Renewables | Anita Worden, co-CEO | Lawrence | Manufacturing |
| 88 | Wellesley Investment Advisors | Darlene M. Murphy, president | Wellesley | Financial services |
| 89 | Radius Financial Group | Sarah Valentini, principal and president | Norwell | Financial services |
| 90 | Front Line | Nancy Salter, president and owner | Hopedale | Construction |
| 91 | Delaware North - Boston, TD Garden | Amy Latimer, president | Boston | Sports and entertainment arena |
| 92 | Fraser Engineering Co. | Cecelia Fraser, president and CEO | Newton | Construction |
| 93 | F.H. Perry Builder | Allison Iantosca, partner and owner | Hopkinton | Construction |
| 94 | IntePros Consulting | Loren Kovalcik, CEO and president | Lexington | Staffing |
| 95 | B&G Restaurant Supply | Tricia Powers Dambrauskas, owner | Pittsfield | Retail or wholesale |
| 96 | Onyx Specialty Papers | Patricia Begrowicz, president and co-owner | South Lee | Manufacturing |
| 97 | Avedis Zildjian Co. | Craigie Zildjian, CEO | Norwell | Manufacturing |
| 98 | Kaplan Construction | Jane Kaplan Peck, COO | Brookline | Construction |
| 99 | Elaine Construction Co. | Lisa Wexler, president | Newton Upper Falls | Construction |
| 100 | Granite City Electric Supply Co. | Phyllis P Godwin, CEO | Quincy | Retail or wholesale |
Source: Boston Globe, Read the full article here - http://www.bostonglobe.com/magazine/2015/10/23/top-women-led-businesses-massachusetts/JVftRRknlnvGIOPq4Nr2rL/story.html