Chua Di Lac Buddhist Temple Exhibits Spiritual Ecology with Solar Panel Installation Using Sustainable Lead Free Solder Modules from Mitsubishi Electric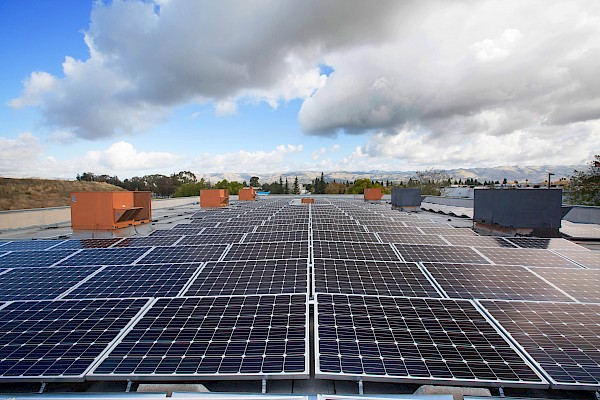 SAN JOSE, Calif.--(BUSINESS WIRE)--Chua Di Lac Buddhist Temple held a commissioning ceremony on November 16, 2016 to celebrate the 49.8 kW Mitsubishi Electric photovoltaic (PV) system installation at its San Jose, California facility. Local dignitaries, including California Assembly member, Kansen Chu, were on hand to support the temple's switch to clean energy.
"We are honored she selected Mitsubishi Electric panels to continue her quest to give back to the community and environment."

Tweet this
The Mitsubishi Electric PV system is the first commercial solar system to be installed in San Jose's Vietnamese community. Chua Di Lac Buddhist Temple is one of the newer temples in Northern California.
"We believe that spirituality includes engagement in ecological issues," said Loanie Lam, owner, Chua Di Lac Buddhist Temple & Unified Event Center. "We give back to the community through healing and yoga classes as well as teaching children how to meditate and live in the present moment. It's beautiful to see the children go home and share the techniques with their parents on how to stay calm and release stress through breathing. Installing a photovoltaic system and converting to sustainable energy is an extension of our commitment to our community and mother earth."
The solar electric system, installed by San Jose-based, Solar System, Inc. features 188 Mitsubishi Electric Diamond Pro solar modules. It has the potential to offset 90 percent of the temple's electricity needs and produce 75,000 kWh of solar power in its first year. It can also reduce greenhouse gas emissions by 57 tons annually, equivalent of recycling 16 tons of garbage instead of dumping in landfills. The system will offset CO2 emissions equal to 56,245 pounds of coal burned.
"Loanie and the organization have already contributed so much to the community and accomplished a great deal," said Gina Heng, vice president and general manager of Mitsubishi Electric Photovoltaic Division. "We are honored she selected Mitsubishi Electric panels to continue her quest to give back to the community and environment."
The system was installed with inverters from Yaskawa - Solectria Solar and racking from PanelClaw.
About Mitsubishi Electric US, Inc. Photovoltaic Division
Mitsubishi Electric designs, engineers and manufactures high quality solar panels to deliver clean, reliable energy to its customers throughout the world. With more than 90 years of electronics manufacturing expertise and 40 years' experience developing solar power technology, Mitsubishi Electric is one of the most established solar providers in the industry. Residential, commercial, and government customers can count on the 25-year limited warranty offered by Mitsubishi Electric US, Inc. for its photovoltaic modules to optimize their return on investment. Additional terms and conditions of the warranties apply. Additional information is available at www.MitsubishiElectricSolar.com or by calling 714-236-6137.
In addition to solar modules, Mitsubishi Electric US group companies' principal businesses include semiconductor devices, automotive electrical components, elevators and escalators, factory automation products and services, heating and cooling products, electric utility products, and large-scale video displays for stadiums and arenas. Mitsubishi Electric US group companies have roughly 50 locations throughout North America with approximately 4,000 employees.
About Yaskawa - Solectria Solar
Yaskawa – Solectria Solar, a wholly-owned subsidiary of Yaskawa America, Inc., is the largest commercial inverter manufacturer in the U.S. Solectria's products include 3.8 to 750 kW inverters, string combiners and web-based monitoring for all size solar systems. Solectria is backed by over 100 years of power electronics and inverter experience. All of Solectria's three-phase central inverters are made in the USA. PV System owners, developers and EPCs rely on the high performance, reliability and bankability of Yaskawa – Solectria Solar. To learn more, please go to www.solectria.com.
Contacts
Mitsubishi Electric US, Inc.
Brooke Behunin, 714-220-6885
brooke.behunin@meus.mea.com
See the full article - http://www.businesswire.com/news/home/20161121005363/en/Chua-Di-Lac-Buddhist-Temple-Exhibits-Spiritual