Solar Design Associates: Clark University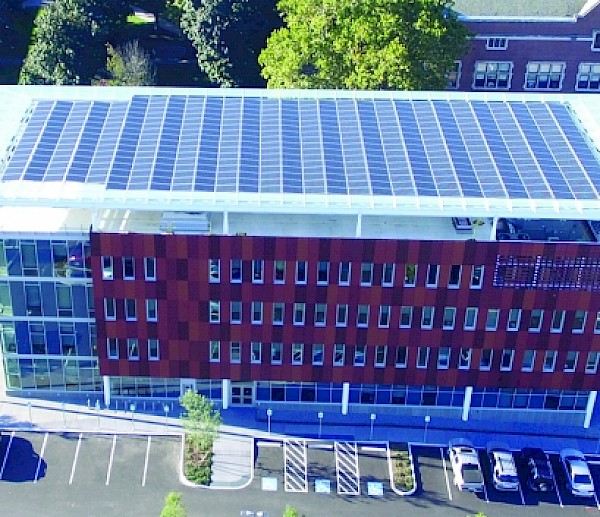 To read orignal article visit: http://solarprofessional.com
Clark University's Alumni and Student Engagement Center is the newest building on the growing Massachusetts campus. With the completion of a PV array floating above it, it is also the first building on the campus to feature solar. In line with emphasizing Clark's commitment to sustainability, the center retained Architerra, a Boston-based architectural firm well known for sustainable design, and Solar Design Associates (SDA), an EPC firm with a long history of developing innovative PV solutions. KW Management of Nashua, New Hampshire, assisted with the project's installation.
The building's orientation allowed SDA to utilize an east-west–facing array. To allow maximum PV capacity, the array is elevated above the building roof, an arrangement that permits access to and air circulation around the rooftop equipment beneath it. This floating array, mounted to a latticed steel canopy trellis elevated 15 feet above the building's roof, cantilevers out beyond the building footprint. A frosted glass outline along the perimeter accents the design.
The impressive array consists of 438 SunPower E20 Series 327 W PV modules. Mounting them to the elevated steel lattice, the installation team used Unirac 2-piece 7-inch standoffs on the high side of the dual-tilted modules. A custom-developed mounting plate fastened to the Unirac standoffs secures four modules at their meeting corner, effectively anchoring a high corner of two adjacent west-facing modules along with two adjacent east-facing modules on the opposite side of the plate. Simpler custom footings on the low end of the tilted modules secure the module's bottom edge to the lattice framework.
The design uses two groups of five Solectria 14.4 kW string inverters mounted beneath the array and accessible on the roof surface. It further calls for segmented module stringing into east-facing and west-facing strings, with both string types on inverters supplying power, separated by the MPPT they land on. All inverters feed into a 500 A, 208 Vac Siemens panelboard tied in by 50 A breakers. Inverter power output then feeds to a street-level 600 A disconnect on the building exterior before landing the combined inverter output circuits on a 500 A breaker in the building's main metal-enclosed switch and breaker combination switchgear. The data acquisition system in use is a custom system from SDA.
Earlier this year, the national SunPower "Intelligent Award for Excellence" went to Solar Design Associates for its design of the Clark University Alumni and Student Engagement Center array.
"It was a pleasure working with Architerra and KW Management on such an innovative project that will help ensure that Clark University's solar energy system delivers economical and environmental benefits for the next three decades or more. With the completion of this array, Clark University has emphasized its commitment to sustainability and the environment."
—Steven Strong, president, Solar Design Associates
Overview
DESIGN FIRM: Solar Design Associates, solardesign.com
LEAD INSTALLER: Robert Erb, project manager, Solar Design Associates
DATE COMMISSIONED: June 2016
INSTALLATION TIME FRAME: 60 days
LOCATION: Worcester, MA, 42.25°N
SOLAR RESOURCE: 4.25 kWh/m2/day
ASHRAE DESIGN TEMPS: 84°F 2% average high, -4°F extreme minimum
ARRAY CAPACITY: 143.226 kWdc
ANNUAL AC PRODUCTION: 166,526 kWh
Equipment Specifications
MODULES: 438 SunPower SPR-E20-327, 327 W STC, +5/-0%, 5.98 Imp, 54.7 Vmp, 6.46 Isc, 64.9 Voc
INVERTERS: 3-phase 120/208 Vac service, 10 Yaskawa–Solectria Solar PVI 14TL, 14 kW rated output, 600 Vdc maximum input, 300 Vdc–540 Vdc MPPT range, 180 Vdc–580 Vdc operating range
ARRAY: Seven-module source circuits (2.289 kW, 5.98 Imp, 382.9 Vmp, 6.46 Isc, 454.3 Voc) or eight-module source circuits (2.616 kW, 5.98 Imp, 437.6 Vmp, 6.46 Isc, 519.2 Voc); five or six source circuits per inverter, two inverters with five source circuits of seven modules (11.445 kW, 29.9 Imp, 382.9 Vmp, 32.3 Isc, 454.3 Voc), six inverters with six source circuits of eight modules (15.696 kW, 35.88 Imp, 437.6 Vmp, 38.76 Isc, 519.2 Voc), two inverters with five source circuits of eight modules (13.08 kW, 29.9 Imp, 437.6 Vmp, 32.3 Isc, 519.2 Voc), array total 143.226 kWdc
ARRAY INSTALLATION: East-west array, raised steel framing, Unirac 2-piece 7-inch standoffs with custom attachments, east at 120° azimuth, west at 300° azimuth, 5° tilt
INVERTER COMBINERS: 500 A 120/208 Vac Siemens panelboard, 50 A breakers
SYSTEM MONITORING: Custom Solar Design Associates data acquisition system
To read orignal article visit: http://solarprofessional.com/