A Tour of DISCOM 1500V Combiners for Utility-Scale PV Systems
In our latest webinar, Applications Engineer Michael Nieman discusses Yaskawa –Solectria Solar's DISCOM 1500, the newest combiner box and most reliable choice for Utility-Scale PV Systems. He reviews product features, utility-scale design considerations and showcases the labor-saving advantages when using Yaskawa – Solectria Solar products.
To view the webinar in its entirety, grab a cup of coffee and check it out here :
Thinking Inside the Box
Solectria has a distinct philosophy regarding combiner box design and development process. As a customer-first organization, we are constantly looking for ways to make the lives of our customers easier. With module and inverter pricing being commoditized, electrical BOS and plant design is one area where installers have control. We take your feedback into account so you can achieve your goal of lower levelized cost of electricity and lower installation costs.
Here is a brief overview of the DISCOM 1500 advantages:
Fuse holders able to accommodate 15, 20, 25, or 30 amp string fuse sizes to support varying module ratings as well as single or double string applications
Integrated DC disconnect available in multiple ratings (250 A, 325 A, & 400 A)
Enclosure locking mechanism for safety and security
Connection plates for compression terminals
Choice of mounting methods: indoor, outdoor, wall, array, rooftop
 Enclosure options are either polyester powder-coated steel (Type 4) or fiberglass (Type 4x)
Other options include the following:
Surge arrestor
PV connector pre-wired option that uses multi-contact MC4 or Amphenol Helios H4.
A unique aspect of the box is the roominess of the interior, which makes it is easy to work inside the enclosure.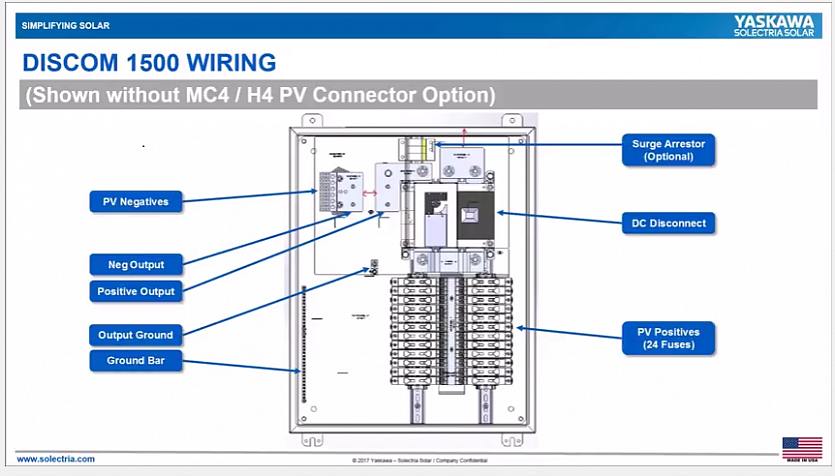 Feel free to download a copy of the DISCOM 1500 spec sheet here: https://www.solectria.com/string-combiners/discom-1500/
You'll also find the ETL listing (UL 1741) on our website.
One of the highlights you'll notice is the wide variety of available options, particularly for fuse inputs and fuse disconnect switch ratings. This lets you tailor it to the specific module current levels you expect to see on your project. The entire line of DISCOM 1500V products are delivered in the same enclosure size so you can standardize your installation methods.
Fuses: One Size Does Not Fit All
As we mentioned, accommodating a variety of fuse sizes is key so our customers can employ a variety of wiring techniques at the array, such as Y connectors or pre-manufactured cable harnesses (octopus cables).  One customer recently noted that this is particularly useful on fixed tilt arrays with a "two-up" style array table of modules.  Using a Y connector closer to the array to combine two 15 amp solar circuits into a single, effectively 30 amp circuit) allows for reduced wire count back to the combiners. Therefore, we can supply a combiner with 30 amp string fuses (instead of the typical 15A) to reduce the overall part count, and allowing for up to a "32 string" combiner box. If this approach makes sense for your project, you can effectively double up the number of strings each combiner box can serve. At 1500VDC, that is a substantial amount of energy for a single combiner. For a deeper dive into Y connectors read our blog article here: https://www.solectria.com/blog/using-y-connectors-in-string-inverter-systems-part-i/
Flexible Output Connections
For output connections, we can accommodate a wide variety of conductor sizes up to (1) 750 kcmil per pole or (2)600 kcmil per pole. In our experience, for large utility scale projects the compression terminal method is the best means to terminate large gauge aluminum wire.  The DISCOM 1500V combiner includes studded connection plates, ready for the installer to use the compression terminal of their choice when landing their output conductors.
A Great Option Package
Taking customer feedback into consideration helps Yaskawa – Solectria Solar create available options to tailor this product specific to customer needs.
One customer recommendation, now available as an option, is a DC surge arrestor. This can be included in each combiner box for a relatively low cost. It recognizes a surge event and can limit the transient voltages or surge currents from lightning or other events, protecting the PV system equipment.
Another option available is a "wire whip" using  MC4 or H4 PV connectors. Source circuit (string) input whips are pre-terminated to combiner input terminals. This was a request from large utility scale installers as a way to save labor in the field.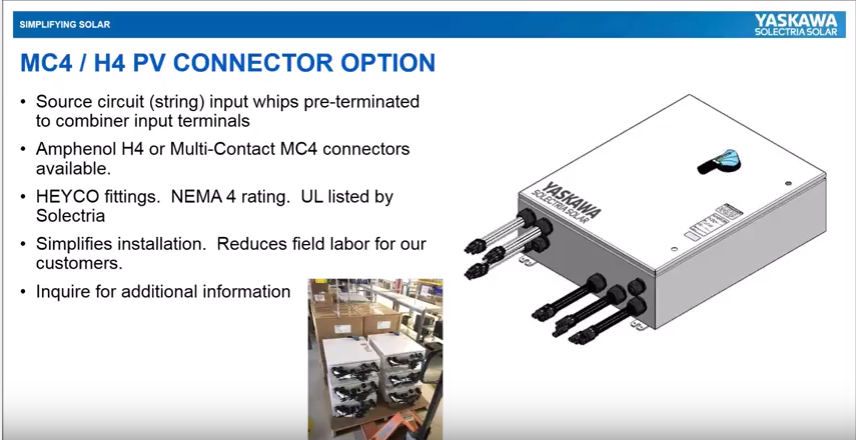 A great feature of this option is that the enclosures come with pre-drilled holes, prior to powder coating. This may sound insignificant, but in addition to the field labor savings, the pre-drilled holes also reduce the likelihood of rust or damage at these interface points, which would typically occur if these holes were drilled or punched in the field.
Yaskawa – Solectria Solar works with large, experienced wire houses for our wire assemblies. Source circuit (string) whips are individually labeled with polarity and string number. They are color-coded by polarity, and arranged in groups of 4 or 8 in staggered lengths to make wire bundling easier. In addition to the labor-savings, string whips also offer electrical safety advantages. They can be disconnected in the field prior to O&M activities.
Our boxes also have flexible conduit entry, based on the location of source circuits. Also, we leave lots of wire bending space. Our fuse holder inputs are strategically located for easy installation.
Other DISCOM 1500 features include support for oversized output conductors for long runs with standard lug connections, oversized copper conductors, and special user safety features.
The list goes on! Even the color of the finish is strategic. The gloss white paint minimizes heat gain over standard gray enclosures. Please inquire for additional information, and as always, feel free to ask us about options you would like to see!
You Asked, We Answered
Q: Can this only be used with Solectria equipment?
A: No, the DISCOM 1500 is compatible with any 1500V central inverters on the market today.
Q: Do you have a 1500V rated inverter?
A: We have a 1500V rated string inverter. That product will be on the market later this year. We don't currently have a 1500 V central inverter offering.
Q: What about factory tours?
A: We do offer tours if you're in town. We also have PV inverter training days, including technical presentations regarding our product line as well as industry topics. Visit www.solectria.com/events to see a list of upcoming events and trainings near you.
Continue the conversation...