PV String Inverters: Yaskawa - Solectria Solar's Answer for a Simplified Residential Solar Power Installation
Our recent webinar covered Yaskawa-Solectria Solar's residential solar product offering. We spoke of the difference between module level power electronics (MLPE) and string inverters in residential systems. The webinar also highlighted our PVI 3800-7600TL single-phase, transformerless PV inverters and additional options including the Rapid Shutdown Combiner for NEC compliance.
If you missed our webinar, you can view it in its entirety right here.
Market Data Puts Single Phase String Inverters Right at Home
According to GTM Research, residential solar is the fastest growing market segment at a projected 17% annual rate through 2020. Furthermore, single-phase string inverter shipments are growing 16% annually through 2020. Single-phase string inverters will continue to gain market share as warranties for string inverters begin to expire and replacement opportunities surface. Overall, it's exciting to see the anticipated growth in residential PV installations in the coming years.
Yaskawa - Solectria Solar and the Residential PV Inverter Market
The average residential rooftop is currently installed for $2.75 per Watt. PV inverters make up the smallest BOS component at only 4%, despite being the only moving part in the whole system.
Since its founding in 2005, Yaskawa – Solectria Solar has offered a reliable and quality residential inverter product. Yaskawa – Solectria Solar continues to align itself with the solar market and grow alongside the residential forecast. We are generating momentum for our residential product offering through our end-of-year residential promotion, providing cost-competitive residential PV inverters (more details later).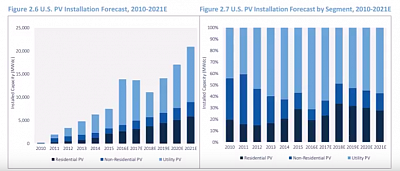 String Inverters: The Simpler Option
Let's take a deeper dive into comparing string inverters to module level power electronics (MLPE).
String inverters simplify solar with much fewer components than MLPE. Only one unit is required per system, typically located on ground level, which represents only one potential point of failure. Additionally, you place your sensitive power electronics in a lot more favorable location (basement or side of the house) vs the roof. 
String inverters also experience less thermal cycling (repeated heating and cooling of components), meaning they are less likely to fail. However, in the event of a failure, their ease of accessibility makes for a quicker replacement (in as little as 20 to 30 minutes) than a rooftop location. Additionally, string inverters are up to 3% more efficient than MLPEs and there are currently about 10 different products on the market that are easily swapped out to protect your investment.
NEC 690.12 compliance can be achieved with our rapid shutdown combiner box, which seamlessly interfaces with our residential line of inverters.
MLPE: Microinverters and Optimized Solutions – the Other Option
If your roof has shade or 2+ array tilts or azimuths, you may have better production with MLPE. Keep in mind string inverters have dual MPPT to account for mismatch and modules with bypass diodes that can help account for production losses with minor shading and tilts. Consult with your installer to see if your roof would benefit from all the added costs associated with MLPEs or if your roof is set up for maximum efficiency with string inverters.
MLPEs are on average over $1000 more expensive for every 5kW residential system. They also bring multiple points of failure and considerable thermal cycling, a top reason why systems can fail.  If they fail, they are considerably more complicated to replace (especially if the failure is in mid-array). Installers may be looking at two people and half a day to replace one failed microinverter or optimizer.
Some benefits of MLPE include longer warranty and easier system expansion.
In the following charts, GTM Research puts microinverters at double the price point of string inverters as a component of the entire system. For more detailed pricing information on our PV string inverters, please contact your Yaskawa-Solectria Solar representative.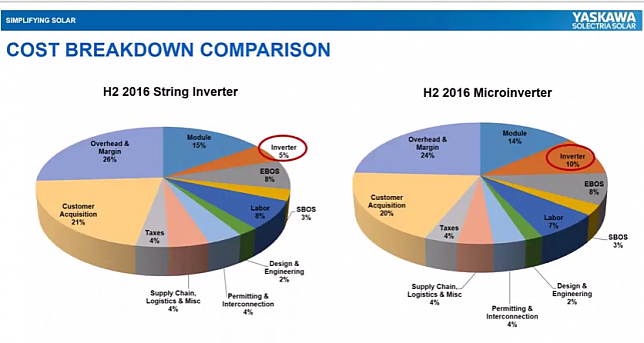 The Yaskawa-Solectria Solar Residential PV Inverter Line Up
Yaskawa - Solectria Solar's PVI 3800TL, PVI 5200TL, PVI 6600TL, and PVI 7600TL are compact, transformerless, single-phase PV inverters with the highest peak and CEC efficiencies in the industry. These PV inverters come standard with an integrated DC disconnect, DC arc-fault detection, 1 or 2 MPP trackers, and a user-interactive LCD display and keypad. Their small and lightweight design makes for quick and easy installation and maintenance. They have an innovative passive cooling design which eliminates the need for fans in the inverter. These PV inverters include an enhanced DSP control, comprehensive protection functions, and advanced thermal design enabling highest reliability and uptime. Any PVI 3800-7600TL may be purchased with our Rapid Shutdown Combiner to comply with NEC 690.12. You only need one box per inverter.
Visit here for more information about how we comply with NEC 2014 Rapid Shutdown requirements. We also have a detailed webinar on the topic.
Another great feature of our residential inverters is flexible dual MPPTs. Most other string inverter manufacturers split the power 50/50, but our solution can utilize up to 70/30 power distribution. If you have two roofs, or you want to load one MPPT significantly more, it gives you more design options. We boast significant design flexibility for any project, and they are actually one of the easiest to design around in the industry.
Some competitive highlights include our wide MPPT tracking range, low startup voltage, duel MPPT trackers, a peak efficiency of 98.3% and CEC efficiency of 97.5%.
NEC 2017: Exciting Times
In accordance with NEC 2017 code, you will actually have the option of supporting module-level shutdown by January 1, 2019. Every module will require an electric device that will automatically de-energize conductors within one foot of the array.  Yaskawa-Solectria Solar is currently evaluating a number of options so our products will be ready in time. We're looking at third-party solutions to package with our inverters, negotiating with leading module manufacturers to provide a simplified, integrated solution, and implementing solutions that are SunSpec compatible.
Residential Solar Sale
Attention installers and distributors: you can earn cash rebates for each individual inverter purchased. This includes PVI 3800/5200/6600/7600 TL single-phase string inverters. Just in time for the holidays, get some extra cash in your pocket for using Yaskawa – Solectria Solar – while supplies last! Contact your local distributor today for purchasing and ask about discounted pricing on monitoring and agency reporting!  Full details here.
Thank you for taking the time to read this article or to view a play-back of our webinar!
Questions or comments? Contact:
Danielle Kershner
Channel Marketing Specialist
Yaskawa – Solectria Solar
danielle.kershner@solectria.com
978.683.9700 x110
Please email questions and ideas to 
Continue the conversation...