The Meaning Behind Bankability, Serviceability and Reliability
Charlie Saginaw, CivicSolar
In the solar industry, where there have been a few inverter manufacturer entrants and exits, Yaskawa - Solectria Solar (YSS) has climbed its way to the top and now leads the commercial inverter solar market in the U.S. The added assurance of century tenured bankability backed by Yaskawa Corporation, responsive service, and North America availability has secured its spot as the #1 commercial inverter manufacturer in America. Customer service from YSS translates to a lower levelized cost of energy (LCOE) and lower total lifetime cost.
Innovation and Bankability
In the inverter market, YSS is positioned at the intersection of MIT's innovation and a 100-year-old company's bankability. While husband and wife team, James and Anita Worden, founded Solectria Corporation designing electric cars, they transitioned in 2005 to establish Solectria Renewables where their PV inverter business flourished. By 2006, Solectria Renewables launched a full line of 3-phase central inverters (PVI 10-15KW, now obsolete; and PVI 50-100KW). Since 2007, they have experienced nine consecutive years of profitability and continuous year over year growth.
Yaskawa Corporation, headquartered in Japan, is a 4 billion dollar publicly traded firm renowned for its 100 year longevity and innovation in the industrial manufacturing and motion control space. In 2016 Thomson Reuters awarded Yaskawa as one of the Top 100 Global Innovators based on their volume, success and influence.
In 2014 these two manufacturing powerhouses joined forces to create Yaskawa - Solectria Solar. Yaskawa brings scale, global sales and manufacturing, and diversification, while Solectria brings PV design expertise to the relationship. One year later, the company commanded nearly a third of the commercial inverter market share in the U.S. One solar integrator in Massachusetts explained, "The Company is bankable, so I can rest assured knowing that 20 years down the line, Yaskawa will be there to back it up."
Technology
YSS focuses on meeting customer needs, driving the company to innovate and create leading tools, products and solutions for ease-of-use and design. Solar installers have access to the string sizing tool, which allows them to string size quickly and accurately in the early stages of bidding and design.
As a solar company based in Massachusetts, a state that is always early to adopt NEC code, YSS is on the forefront of ensuring all technology is code compliant. This is demonstrated through arc-fault production and rapid shutdown solutions for NEC 2014
compliance. The commercial TL (transformerless) design reduces wasted space and rooftop load. The new PVI 50 and 60 TL has 3 MPPTs with 15 inputs providing generous flexibility when sizing strings, can be mounted flat on a roof and has an optional H4 connectorized wiring box. With SolrenView, the in-house web based monitoring portal, users can access real time production data and historic performance charts.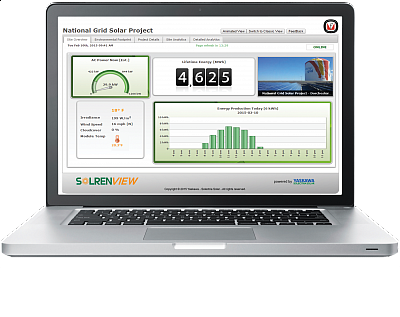 The SolrenView Monitoring Portal
Service
Customer support and service is the hallmark of YSS, lowering overall lifetime cost of the array. With six regional offices and a team of applications engineers from coast-to-coast, customers have access to pre-sales support to tackle technical and sales questions. In the past two years, the company has invested in the customer service department, by implementing a new rigorous training process and adding engineers to the customer service team. Service combined with YSS' local inventory (in both Massachusetts and California) takes the guesswork out of inverter procurement.
When asked about the impact of local rapid response times for maintenance, one CivicSolar account manager added, "If one of the components needs a fix, it's an easy pop and swap for the specific component, rather than an entire new inverter system." Pre and post-sales support and serviceability, lower the overall lifetime costs and make for a more efficient system.
Conclusion
While the inverter is one of the lower costs associated with a commercial solar installation, its operation is essential to power production. Therefore, a reliable inverter and inverter partner is essential when choosing solar components.  Yaskawa - Solectria Solar's reliability, service and technical support provides a positive impact on the ROI for the entire solar system.
Read the full article by Charlie Saginaw, originally published on CivicSolar's website - https://www.civicsolar.com/support/installer/articles/meaning-behind-bankability-serviceability-and-reliability