A look back at Solar Power International 2016
Every year when I return from SPI I constantly get the questions "How was SPI this year? Anything new and interesting?" For those of us that attend year after year, there is one thing we can say – something is always new and interesting.  That's, of course, including the solar wedding where Solar Fred (a well-known marketer in the industry) married a couple of solar geeks (Pam Cargill and Marvin Hamon) in a full blown solar wedding event. OK, solar wedding aside, here are some of my takeaways from the event:
1500V equipment and components are here
Of course, we all know 1500V systems are "the next big thing" especially for ground-mount utility-scale installations.  Moving from 1000V to 1500V provides even more cost reduction than when the industry moved from 600V to 1000V. GTM Research predicts that 30% of utility-scale projects in 2016 will be 1000V. Yaskawa – Solectria Solar (YSS) has been watching this change closely – we do play in this market, but our core is the commercial market, both ground-mount and rooftop. Many of our customers have told us they plan to move to 1500V systems for commercial ground-mount in 2017.  Rooftop will stay 1000V with NEC 2017 code as drafted.
YSS pre-introduced its 1500V inverters (83kW, 100kW, 125kW) and showed its 1500V string combiners, which have been selling like hot cakes since we pre-sold them before announcing them at SPI.  There were other manufacturers that also introduced 1500V product including a few of our PV inverter and string combiner competitors – depending on a company's 'belief system.'  We think that the U.S. market will trend towards 1500V string inverters instead of centrals.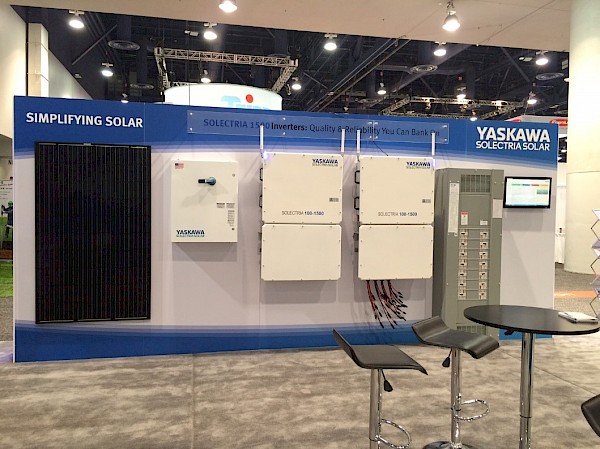 A sample decentralized system showing our 1500V string combiner (DISCOM 1500) and 1500V PV inverters (SOLECTRIA 100-1500).
Energy storage continues to gain traction
Interestingly enough, this was the first time I saw the Tesla Powerwall.  And it was EVERYWHERE.  I can see why the word "wall" is in it – you need a pretty big one to hang it on.  I definitely didn't realize how large it would be, I'm wondering if anyone else did…..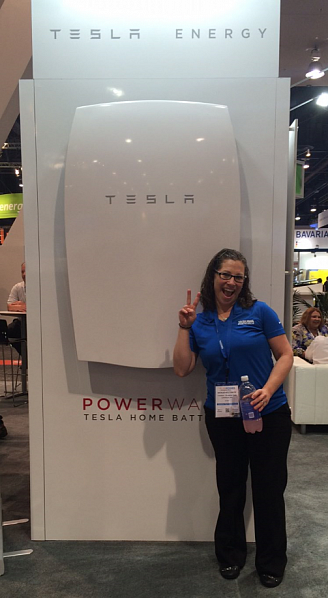 Me, standing next to the Tesla Powerwall – definitely not a 1-person carry piece of equipment.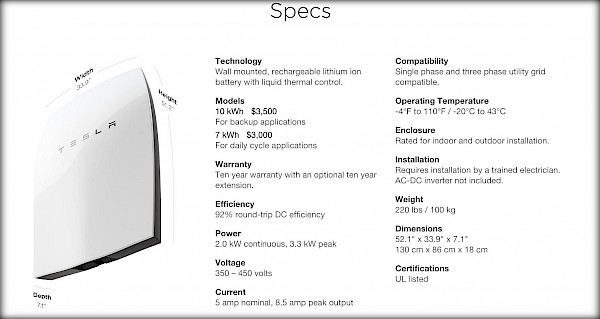 Initial Tesla Powerwall specs
Aside from Tesla, the industry continues to see more energy storage players at each turn. This year, SPI featured 80+ storage companies, including companies like Trojan and Outback, who have been in the battery market for many years prior to the ramp of the energy storage conversation about 2 years ago. There were also various tracks that discussed how to deploy storage in the US, battery technologies and optimization. The conversation continues about lower the cost of storage for all markets. 
Microgrids
Unfortunately, and I'm sure like many other exhibitors, I didn't make it out to the microgrid pavilion as my duties on the show floor kept me pretty busy in meetings and conference sessions (I barely saw the sun while I was there).  However, from my understanding there were various microgrid displays, even a fully functioning one that helped power the show (pretty impressive).
For those of you who many not know, a microgrid is a small power grid that can operate on its own or with an electrical grid.  They are continuing to grow around the U.S. The overview recorded by SPI interviewing Emerge Alliance's President, Brian Paterson, sums up microgrids at SPI: https://www.facebook.com/SPIconvention/videos/10153586994601324/.
What's next for solar?
Ah, the million dollar question. Right before SPI, SEIA and GTM Research published their quarterly U.S. Solar Market Insight report (summary here: http://www.seia.org/research-resources/us-solar-market-insight).  The report states that the U.S. installed 2GW of PV in Q2 2016 reaching 31.6GW of total installed capacity. Can you imagine?  That's enough to power 6.2 MILLION homes. It's pretty incredible, especially when you think back to 10 years ago and less than 1GW was installed TOTAL in the U.S.  That's a GW less than what was installed in Q2 alone.  That's pretty incredible – especially when another almost 8GW is expected to come online in 2016.  The great thing is that it's not just Massachusetts and California installing most of solar anymore; we are seeing states like Utah, Texas (move over wind) and New York creating policy benefiting our industry.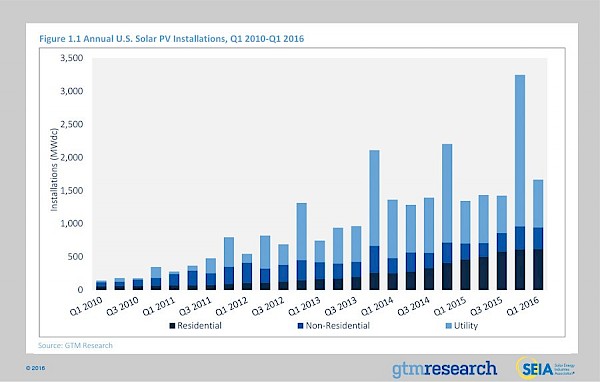 Quarterly U.S. PV Installations, 2010-2016
We've come a long way in solar since I started in the industry almost 9 years ago when everyone and their brother wanted to manufacture modules and it was over $8/installed watt.  So, what's next?  MORE SOLAR!  I think SEIA's interim president Tom Kimbis said it best, "While it took us 40 years to hit 1 million U.S. solar installations, we're expected to hit 2 million within the next two years."
A SPI summary
Here are some good reads that also sum up the show from other POVs:
SPI show daily: www.solarpowerinternational.com
What Were Solar Pros Thinking During The SPI Show? http://solarindustrymag.com/what-were-solar-pros-thinking-during-the-spi-show
SPI 2016: Time for solar energy industry to grow up http://www.pv-tech.org/news/spi-2016-time-for-solar-energy-industry-to-grow-up
Solar Industry 'In Need of a Makeover,' Industry Reps Say at SPI http://www.renewableenergyworld.com/articles/2016/09/solar-industry-in-need-of-a-makeover-industry-rep-says-at-spi.html
Events you shouldn't have missed http://www.solarpowerworldonline.com/2016/09/11-dont-miss-events-spi
Q&A: Yaskawa-Solectria Solar at Solar Power International 2016 (ok, this isn't a summary, but I wanted to throw it in here) http://www.solarpowerworldonline.com/2016/09/qa-yaskawa-solectria-solar-solar-power-international-2016
Solar Power International 2016: Five key takeaways https://pv-magazine-usa.com/2016/09/17/solar-power-international-2016-five-key-takeaways/
Our team and I thoroughly enjoyed SPI this year. Great networking events, conference sessions, parties, and even that wedding. As we look towards next year and prepare for the future, we are definitely looking forward to SPI 2017, introducing new products at the show and taking advantage of all that SPI has to offer.
Some of our team members at the opening reception last Monday night at SPI 2016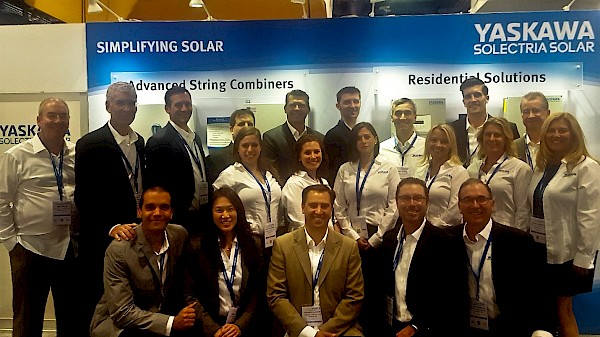 Our team on the show floor at SPI 2016 prior to the show start on Tuesday, 9/13.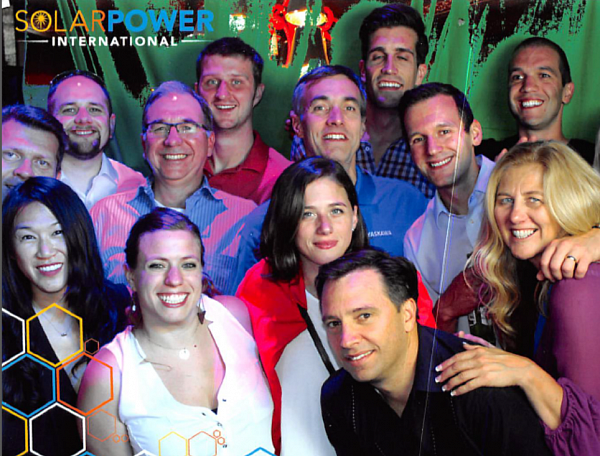 Some of our team at the SPI Block Party on Tuesday, 9/13.
Continue the conversation...