Looking Forward: The Solectria Perspective on 2017 Solar Trends
The solar industry and Yaskawa - Solectria Solar in particular looks forward to seeing a number of industry trends continue to come to fruition in 2017.  We thought we'd highlight the top 3 that are near and dear to us, our partners, and our customers.
Solar Trend #1 for 2017: The time has come for 1500V PV system components
Delivering on overall system cost reduction, 1500V DC components will go mainstream in utility and large commercial installations. According to Greentech Media, installing 1500 VDC systems in place of now-standard 1000 VDC can lower costs by as much as $0.05 per watt.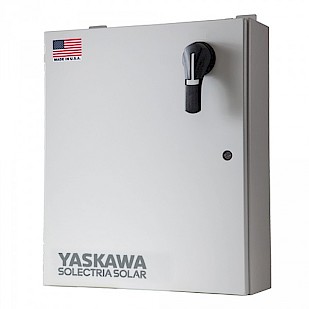 In 2016, Yaskawa - Solectria Solar added the DISCOM 1500, a 1500VDC string combiner, to its DISCOM string combiner line. The DISCOM 1500 offers utility-scale and large commercial PV designers the flexibility needed in combiners. These string combiners are being deployed in utility-scale projects in the U.S. from 50-200MW.
The DISCOM 1500's premium features satisfy the ongoing needs of PV system designers to reduce overall system cost and increase return on investment.  The combiners have gone through Highly Accelerated Lifetime Testing (HALT), guaranteeing all components are carefully vetted for highest reliability.  Other premium features include:
Gloss White Material Finish 
Heavy Gauge Bus Bars with High Quality Plating
Multi-Contact MC4 or Amphenol H4 Connectorized Wire Whips
Compression Lug Studs
316 Stainless Steel
Along with the DISCOM 1500, Yaskawa - Solectria Solar recently announced its 1500VDC string inverter line for commercial and utility scale projects. This upcoming PV inverter line will be manufactured in the United States and feature the latest wireless mesh communications network. Sign up for Yaskawa – Solectria Solar product updates to receive more information.
Solar Trend #2 for 2017:  Warranties for older central inverters are beginning to expire
We will see an uptick in the need to replace central inverters in 2017. With several PV inverter brands and products no longer available, system owners will turn to other companies for a solution. Some of the reasons we will continue to see an increase in the need for replacement units are:
Expiring warranties
Decreasing efficiency
Fewer available options
Additional equipment needed for integrated options
Equipment is failing more frequently
Increase in service wait times
Yaskawa – Solectria Solar offers a simple solution for replacing out-of-warranty products with Solectria inverters manufactured in Lawrence, MA. A partial list of inverters that can potentially be replaced with the corresponding Solectria inverter model is shown below: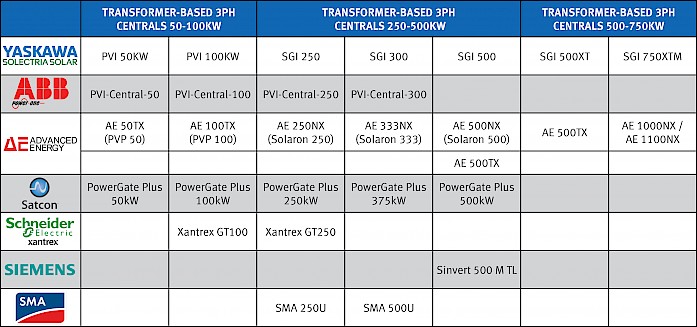 Top reasons to consider Yaskawa- Solectria Solar for replacement units:
Simple, quick and easy swap out
Extensive options to match current configuration and improve where desired
Warranty backed by Yaskawa ($4B, 100 year-old company with long-term commitment to PV industry)
Products are NEC code compliant
PV inverters in most cases have higher efficiencies, which lead to increased production revenue
Lower cost of ownership leads to increased ROI
Solar Trend #3 for 2017: Demand for rapid shutdown solutions will continue to grow as more states adopt NEC 2014
As of January 1, 2017 there are 35 states that have NEC 2014 code in effect. This code requires that PV system circuits installed in or on buildings include a rapid shutdown function that controls specific conductors in accordance with NEC 2014, Article 690.12 (1) through (5). The list of requirements for rapid shutdown includes the following:
Control the voltage of conductors more than 10 feet from the array and the voltage of conductors more than 5 foot in length inside a building.
Controlled conductors shall be limited to 30V & 240VA within 10 seconds of rapid shutdown initiation
Voltage and Power shall be measured between any two conductors and between any conductor and ground
Rapid shutdown initiation methods shall be labeled
PV equipment that performs the rapid shutdown must be listed and identified
How we support rapid shutdown requirements for single-phase string inverters:
Single-Phase String Inverters: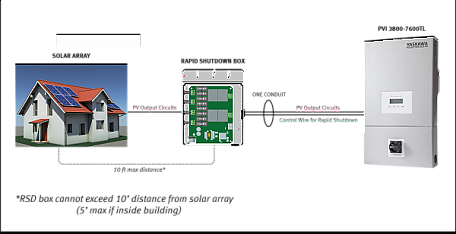 PVI 3800/5200/6600/7600TL
Solution: Yaskawa – Solectria Solar offers a rapid shutdown box  that seamlessly integrates with our single-phase string inverters for NEC 2014 rapid shutdown requirements
Method: The rapid shutdown box is placed within 10' of the solar array (5' maximum if inside). It allows the operation of dual MPPT zone configurations with two strings per MPPT zone. A 5V DC signal wire runs from the RSD box to the inverter in the same conduit as the DC homeruns. Loss of power to DC conductors between RSD and inverter is automatic upon loss of AC power at inverter.
How we support rapid shutdown requirements for three-phase string inverters
Three-Phase String Inverters: PVI 14/20/23/28/36/50/60TL
Solution: (A) Place inverter within 10 feet of array. (B) Yaskawa – Solectria Solar will soon be releasing a commercial rapid shutdown combiner that is compatible with three-phase string inverters for NEC 2014 rapid shutdown compliance.
Method: (A) When the inverters sense the loss of AC power, they turn off in about a tenth of a second. All the live DC is within the 10 foot boundary, and since all the wires outside the boundary are AC circuits, those wires are de-energized as soon as the AC disconnect is opened.
(B) The commercial rapid shutdown combiner allows operation of 1 or 2 MPPT zone configurations with up to 5 strings per MPPT zone. Powered by customer supplied 120-277VAC, installers may also add an additional remote AC disconnect or switch to enable or disable the combiner.
How we support rapid shutdown requirements for three-phase central inverters
Three-Phase Central Inverters: PVI 50-100, SGI 225-500, SGI 500XT, SGI 500/750XTM
Solution: ARCCOM combiner allows you to achieve arc-fault protection and rapid shutdown without additional BOS costs.
Method: For central inverters to comply with rapid shutdown, a single disconnect is required to cut power to the inverter and ARCCOMs. When control power to the ARCCOM is turned off, the contactors in the combiners open, thereby de-energizing the conductors going to the inverter.  The customer must supply external control power (120-277VAC) to the ARCCOMs.
Continue the conversation...