Yaskawa – Solectria Solar's Solution for Replacing Failing PV Inverters
Many PV inverters installed in the last ten or more years are now failing and are no longer protected by the original product warranty. With no possibility of extending warranty coverage due to manufacturers going out of business, system owners need a simple way to swap out obsolete inverters and maintain solar power production. Yaskawa – Solectria Solar has the answer: Solectria's time-tested 600V central PV inverter line provides the simplest solution to replacing an existing inverter and restoring the site's production to the highest level possible.
In our latest webinar, Sr. Applications Engineer, Michael Nieman covers Yaskawa –Solectria Solar's inverter replacement solutions that have brought new life to aging PV systems and explains how you can do the same.
To view the webinar in its entirety, take a coffee break and check it out here:
In Need of a Replacement? How We Can Help
Have you found yourself in any of the following scenarios?
You purchased a PV inverter from a manufacturer that is going or has gone out of business
The market has a shortage of 600VDC inverters available now that 1000VDC has become more common
Warranties on your PV inverters have expired and there is no service or replacement from that manufacturer available
Your legacy system does not support the current NEC safety requirements
You are not alone. A large number of legacy system owners are finding themselves with fewer options available to them. Yaskawa – Solectria Solar's solution is the 600VDC central PV inverter product line. These products come with a standard five-year warranty, extendable up to 20 years, backed by Yaskawa, a $4 billion company.
A Tour of our Three-Phase Central Inverters
The "Workhorse" PVI 50-100KW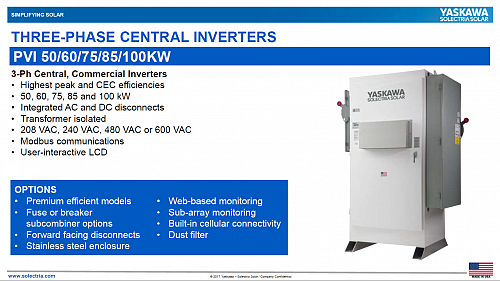 On the market for almost a decade, the PVI 50-100KW line is the smallest of our transformer isolated machines. They are customizable and built to order. There are flexible options on the AC side and they also support customization on the DC input section with overcurrent protective devices that are specific to your project. They can support 208, 240, 480 or 600VAC grids and come standard with Modbus communication support. Even if you have an existing monitoring or plant management system on site, this inverter can likely be a drop-in replacement and tie into that system. If there is not an existing monitoring platform in place, we can provide our SolrenView service to monitor the PV plant. These PV inverters also have a stainless steel option.
The SGI Line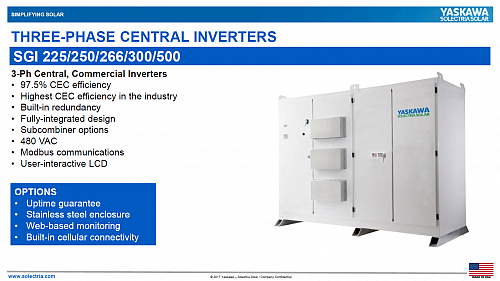 The SGI series is a larger evolution of our transformer isolated machines and provide options for 225/250/266/300/500kW units at 600VDC. The inverters include parallel power stages in a stack configuration for increased reliability. Units have flexible options, similar to the PVI series including DC input customization allowing for the ability to match the currently configured system.
Utility Scale Line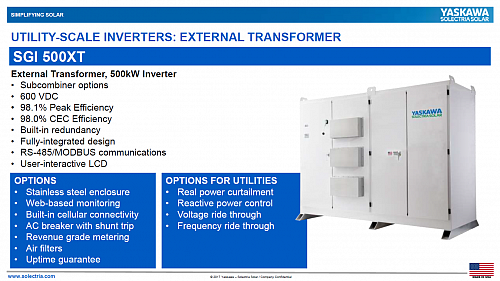 We have two families of units that use external isolation transformers: the SGI 500XT and SGI 500/750XTM. Decoupling the transformer outside of the inverter provides flexibility to match the voltage on the utility side. Check out our specification document to help define the specs of your transformer.
The XTM line comes with all the standard smart-grid functions, including Rule 21. We are currently in test for UL1741 SA compliance.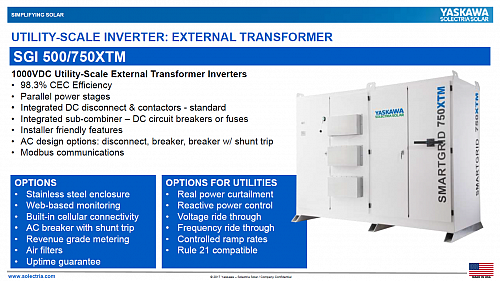 Getting Started with your Inverter Replacement
To get started on your inverter replacement, you will need to answer the following questions:
What size inverter do you need?
What is the AC voltage output?
What is the configuration of the array?
What kind of overcurrent protective devices exist (or don't exist)?
What is the MPPT window?
What are the grid supporting functions?
What does the existing electrical system look like?
Some of this information will be available online in system specs. We offer tools that can help, including our String Sizing Tool and have outlined legacy inverters that match up with our inverters, which can be found here.
How it Works: PV Inverter Case Studies
Greenlease, Inc. does a complete inverter replacement
Greenlease has clients with over 80 storage facilities nationwide many with rooftop PV systems. The Ballard inverters installed ten years ago began failing and when it was time to replace them, it was found that they are no longer available. Repair and replace became the solution; however, the time needed to source parts was too costly, resulting in a complete inverter replacement.
We reviewed the Ballard spec sheets among other system details, including the azimuths, design temperatures and determined the best replacements. One site example in Westminster, CA, originally configured with a Ballard EPC-75-480 was successfully replaced with a Yaskawa – Solectria Solar PVI 75KW inverter in March of 2015.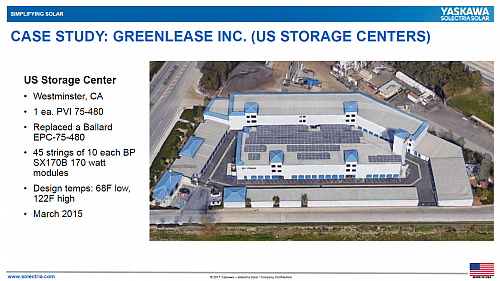 The replacement inverter has performed as expected and since the initial replacement, the owner has Yaskawa – Solectria Solar inverters installed at a number of other facilities.
Twin 135 kW inverters replaced  
Yaskawa – Solectria Solar replaced these inverters with four PVI 60KW inverters. This allowed us to put the inverters closer to the array and reduce some mismatch mechanisms that had worsened over time. Overall system output was improved.
Historic Beverly High School
The first school in the country to install solar panels in 1981 needed help. After revitalizing the system in the 1990's, their Omnion inverters failed and Yaskawa –Solectria Solar was called in. This PV system used bi-polar inverters, which were a trend for a while, but were in need of replacement. Over 35 years after the system was originally installed as a 100kW array, it is operating at 80-90 kW today, which is remarkable for the age of this system.
Butte College – another drop-in replacement success
This is a great example of the efficiencies of working from a complete system plan. We were able to easily coordinate interface points and any changes that were needed to get our inverters online. In this case we were replacing Xantrex.
Before: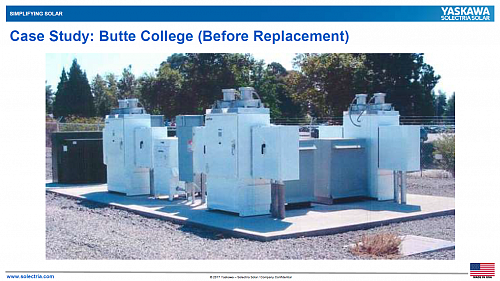 After: Transformers are now inside the inverters.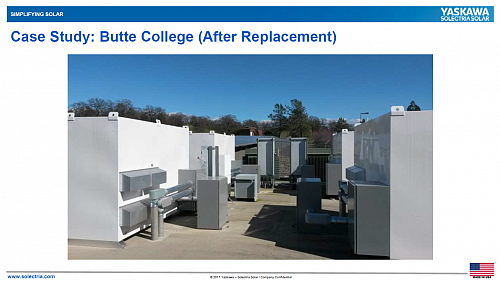 Code Considerations
"Like for like" equipment replacements generally does not face much scrutiny from the building planning department. However, it is always a good idea to have a discussion with the local Authority Having Jurisdiction (AHJ).
Revisions to NEC 2017 690 actually help clarify the language and requirements for inverter replacement projects, even for isolated PV inverters.
A Question from the Audience
Q: If you are upgrading the size or style of the inverter and it is not "like for like." Have you had problems with that?
A: That is a good question. If you are upgrading the size or style, you will certainly have different design considerations, and they may face scrutiny from the building department. I have not had problems with that, but it is important to have that discussion with the building department. They will want to do their due diligence.
Continue the conversation...